Residential HVAC Services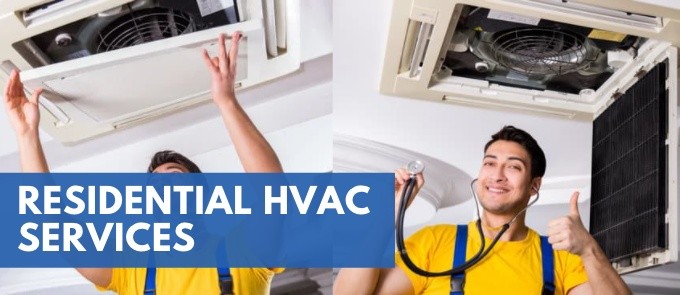 Residential HVAC service is a top priority for all homeowners. Without the proper upkeep, your AC could stop working, leaving you and your family in a sticky situation.
Because of this, it is important to make sure that your AC unit and ductwork are always in good condition and well maintained.
With years of expertise in HVAC system maintenance, our team is both professional and experienced, assisting you in comprehending the problem and determine the best solution.
Our HVAC company has thrived because of the loyalty and trust we've received from our clients. It's a pleasure for us to work with you in the home heating and cooling sector to provide HVAC installation, maintenance, and repair services that keep them comfortable and safe.
Residential Cooling Services
Do you have difficulties with your house's cooling system? We provide a comprehensive range of cooling solutions for you to check and maintain your home's cooling system so that it is properly cooled.
Contact us to schedule an inspection of your house's cooling system and discover whether any repairs are needed.
Our team of respectful HVAC repair professionals works with you and your loved ones to provide the greatest cooling solutions at the most affordable costs.
We can assist you, whether it's an easy thermostat replacement or a full-house dehumidification system repair or installation!
Schedule a cooling system checkup to ensure that your air conditioner is in good working order and that any repairs are necessary!
Speak With our HVAC Professionals Today!
Residential Heating Services
If your home's heating system needs to be fixed, call our professional home heating repairs! We specialize in home heating repairs for home furnaces, heat pumps, and mini-split systems, as well as ductless heating systems.
Schedule a heating system maintenance service with us to prevent your heating system from breaking!
Heating system maintenance once a year may help your equipment work more efficiently and save you the trouble of making sudden repairs.
Residential Air Conditioning Repair
Call us for expert, fast, and trustworthy air conditioning repairs near me and the surrounding areas if your air conditioning system is damaged.
When your home's air conditioning system fails, you need assistance from HVAC technicians you can trust. We are grateful for the trust that so many families have placed in us and pleased to offer the HVAC repair services they require.
Give us a call if you need air conditioning installation services, air conditioning maintenance services, or simply a basic thermostat replacement.
Residential Air Duct Cleaning
Air duct cleaning is a vital HVAC maintenance service that can help you improve your house and keep you quality r family safe from respiratory illnesses.
Every few years, or as soon after discovering an indoor air quality problem as possible, residential air duct cleanings should be done. Call our professionals in your city if you need an air duct cleaning or the surrounding area!
We have long-standing expertise in assisting homeowners with HVAC repairs. We offer affordable, quick, and thorough air duct cleaning services that can help you maintain your family's health at home.
Residential HVAC Maintenance
When it comes to routine maintenance, our experts can assist you in saving money on your comfort system's lifespan. Our preventive maintenance procedure will assist you in keeping your systems operating effectively and avoid expensive and unanticipated failures. We offer two types of HVAC maintenance, and they include:
Boiler Repair & Maintenance
Heating & Cooling Maintenance
When it comes to more complex methods, we can keep your HVAC systems functioning properly and assist you in saving money on your energy bills.
We can create the ideal solution for your systems to guarantee their long-term comfort and efficiency.
Don't Wait. Call Our Professional HVAC Technicians Today.
Don't wait until your unit breaks down if you need prompt, professional HVAC repair service in your area.
Call us now to schedule an appointment with one of our expert technicians who are well-trained and equipped for all types of residential heating or cooling system repairs.
Whether you need routine maintenance work like changing filters or repairing a leaky hose clamp, emergency services during extreme weather events, or installation services for new systems—we can help!
Do you need an emergency HVAC repair? Call Us Today
Frequently Asked Questions