Commercial HVAC Services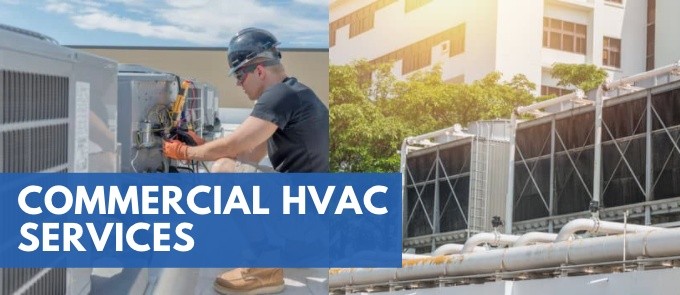 Commercial heating and cooling repairs are best left to our commercial HVAC contractors. With their knowledge and expertise, commercial HVAC service technicians can provide commercial clients with new systems or commercial heating and cooling repairs that will ultimately increase the efficiency of the commercial space.
We provide a wide range of HVAC services to suit all of your business's HVAC installation, replacement, repair, and maintenance requirements.
We understand that if your company's heating and cooling system fail, you may be unable to operate until it is repaired.
That is why our expert commercial HVAC technicians are available 24 hours a day, 7 days a week, to help you get back up and running as quickly as possible.
Do you need an emergency HVAC repair? Call Us Today
Reliable and High-Quality Commercial Heating & Cooling Service
When it comes to commercial services, the distinction between residential and professional systems is significant.
Commercial heating and cooling equipment are significantly bulkier, requiring more frequent usage and greater heating and cooling demands than residential devices.
This equipment is more difficult to set up because it includes several zones. The type of maintenance you need depends on your operating environment and the specific demands of your business.
We provide complete commercial HVAC services, including:
Commercial AC maintenance
Commercial AC repair
Commercial AC replacement
Commercial furnace maintenance
Commercial furnace repair
Commercial furnace replacement
Commercial Air Conditioning Repair, Replacement & Maintenance
Don't let everyday air conditioning issues leave you sweating at work! Our specialists can swiftly identify and repair your AC repair problems, bringing your property back to normal in no time.
Do you need a new unit? The size of the air conditioners you need, the number of units to buy, and their ideal placement on your property are all important factors to consider.
Our specialists in your city can walk you through the procedure and teach you how to do the essential AC repair yourself to keep your equipment working properly and effectively.
Furnace Repair, Replacement & Maintenance
The complexity of modern heating systems is such that even one component failure can significantly impact the entire system. Our heating repair technicians are trained to locate and correct any problems with your home's heating system.
We'll work quickly to bring your company back up to temperature once you've discovered the source of the problem.
If you're searching for a new heating unit, we can help you choose one. We provide a wide range of options for replacing your old industrial furnace, including furnaces, boilers, heat pumps, and geothermal heating systems.
We'll aid you in selecting the most efficient solution, taking into account your geographical location and spending.
We can also guarantee your system's successful operation of any unforeseen problems with the specialist repair, inspection, and routine furnace maintenance at least once a year—before the heating season begins.
Don't Wait. Call Our Commercial HVAC Technicians Today.
If you are experiencing any issues with your HVAC system, please don't wait to call us. Experiencing problems can lead to further damage and costly repairs.
Our commercial HVAC technicians have the knowledge and skills necessary for prompt service so that your systems always run efficiently, even during extreme weather conditions. Call now for prompt commercial services!
Speak With our HVAC Professionals Today!
Frequently Asked Questions